An Charraig Mhór GFC would like to pay our deepest respect to the family of our esteemed past player and life-long supporter, Plunkett Devlin, who passed away on Tuesday morning.
Plunkett was originally from Roughan Castle, Coalisland. He was brought up in the care of his sister, Mary, who was married to Eddie Mc Cullagh of Greencastle. Attending St Columb's College in Derry, Plunkett showed great promise as a young sportsman. In the absence of a Greencastle team in those years he first fielded for Creggan and this is where he came to the attention of the Carrickmore St Colmcilles club and one of its chief organisers at that time, Father Mc Nally.
Peadar Montague picks up the story: '' I was studying Agriculture at UCD. I got a phone call from Mickey Harte to look about a lad called Plunkett Devlin who was also at UCD studying to become a Vet. I was out playing football at Belfield and I asked a lad called Brendan Mc Feeley from Donegal did he know a fella called Plunkett Devlin? He turned round and pointed up the field and said, 'there he is up there with the blue jersey on'. I went up to Plunkett and asked him would he come and play for Carrickmore Minors. He said he would and that was it''. In their time at UCD Plunkett and Peadar would go on to represent the College in the Sigerson Cup panel capturing the title in the 1959/1960 season. This chance meeting was to begin a lifelong friendship between these two men with both travelled from Dublin together over the next number of years to pull on the Carrickmore jersey.
The decision to approach Plunkett proved to be a good one as he was to play a big part in historic back to back Minor Championship wins of 1956 and 1957 captaining the team the second year. It was not long before he would progress to the senior ranks and lined out at midfield in the 1958 County Final against Clonoe alongside another man with whom he would become close friends, Packie Mc Philips. Despite his best efforts, which included a great point from play, he tasted defeat in the '58 Final. Carrickmore bounced back from the championship defeat in '58 and went on to win the league playing the final against Clogher in Beragh in Feb 1959. Our club history informs us that ''Carrickmore had a very strong midfield and this proved to be the deciding factor. Plunkett Devlin was the star of the game……''. Injury was to curtail his involvement in the victorious 1961 campaign but he was part of the panel who had returned the O'Neill Cup to the parish after a 12 year absence.
Another feature of Plunkett's years with the club were the seven-a-side competitions. The Carrickmore Tradition Vol 1 tells us: 'The last of the great Carrickmore seven-a-side teams playing during the 1958-1960 era included Ian Mc Garrity, Peadar Montague, Mickey Martin, Owen Kerr, Pat John Rafferty, Plunkett Devlin, Frank Donnelly, Oliver Kerr and Jimmy Treacy. The seven-a-side teams played in many competitions organised at sports meetings in North Tyrone and enjoyed much success'.
Speaking to Plunkett in recent years he recollected his memories of that time in various letters and emails. ''I think the year was 1958 or 59 and it must have been a local sport's, maybe Gortin or Greencastle. We had a smashing sevens team in 58 or 59, with Frankie, Peadar, Owen and Oliver Kerr, Packie Mc Philips, Fr Mickey Martin and myself. All seven of us travelled in Peadar's black Volkswagen and I remember the Reg MIK260. It was a Dublin reg as Peadar lived there. If memory serves me right we won 49 out of 50 matches. The only team to beat us was Ballybofey. An interesting aside to this Gavan was I went back to University that year with £30, 2 wrist watches and two Remington electric shavers. The watches and shavers went into hock and were never retrieved. You can't eat a watch or shaver but as a student a T bone steak was no problem. I was on 5 shilling's pocket money weekly. Just some memories of a very happy time playing for Carmen filled with nostalgia and emotion''.
Over the years Plunkett kept in touch with the club and his team mates perhaps most notably, Larry Sheeran, Ian Mc Garrity and of course Peadar Montague. He attended the 50th Anniversary of the 1961 Senior Championship win in 2011 and enjoyed it immensely. It was the first time that I had met him in the flesh and was taken aback by his level of passion when speaking about his footballing years. His broad smile would light up a room and his enthusiasm was all consuming. He was full of positivity and gratitude for the opportunities the club had given him. Although his memories were very much separated by the passage of time for him they were as real as if they were yesterday. His conversations were never about himself but focused on the long list of friends he made through the club and what they and the club had done for him. In the words of Fr Mickey Martin, 'Plunkett was a gem of a man, very much a Carrickmore man and part of our close knit group at that time. He was equally at home at midfield or in the forwards, God rest him.'
Another man that knew Plunkett well in those years was Brendan Loughran who played with him on the '57 minor team and later at senior level. He had fond memories of a 'true gentleman' and spoke of his 'great skills as a player marking him out as county standard'. Brendan had family connections with the Mc Cullagh's and after matches, 'Plunkett would go back to their house to get washed up and head out to whatever dance they were going to. I also remember that all the girls in the parish were running after him as he was a tall, good looking lad. Any time I would meet him in later years he would fondly remember his playing days. A nice man'.
Today we remember Plunkett and his contribution to the club but more especially in our thoughts at this time are his family. We keep in our prayers his late wife Marie, his daughter Sharon, sons Padraig, Peter and Colin, his daughters in law, grandchildren and wide circle of family and friends.
Ar dheis Dé go raibh a anam.
Thanks to the following for their memories which helped compose this article; Peadar Montague, Larry Sheeran, Brendan Loughran, Fr Mickey Martin, Pat Kelly.
Gavan Mc Elroy
on behalf of An Charraig Mhór GFC
Picture 1. Plunkett front row with trophy 1957 Minor Championship winners
Picture 2 Plunkett front row with trophy the 1957 Minor team.
Picture 3 Plunkett back row second from left, 1958 Senior Final
Pictures 4, 5 Minor Championship reports Ulster Herald 1957
Picture 6 A seven-a-side team of the late 50s
Back Row l-r Joe Martin, Oliver Kerr, Ian Mc Garrity, Plunkett Devlin. Front Row l-r Mickey Martin
Eoin Kerr, Frank Donnelly.
Picture 7 Plunkett, centre with Peadar Montague(left) and Joe Martin at the 50th Anniversary of the 1961 Championship Win.
Picture 8 A recent picture of Plunkett.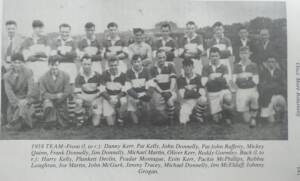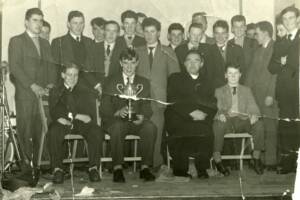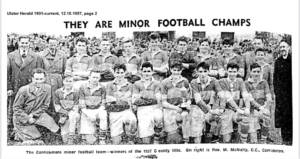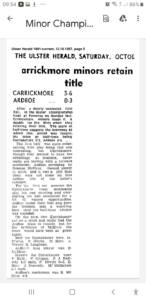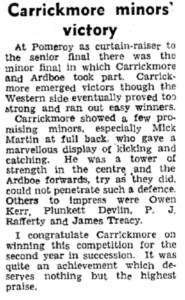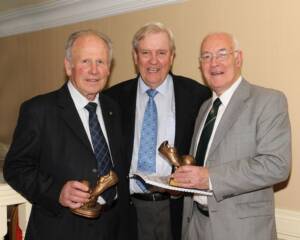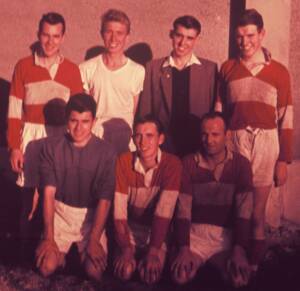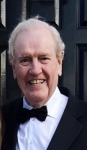 By procarrickmorestcolmcilles
Wed 21st Dec