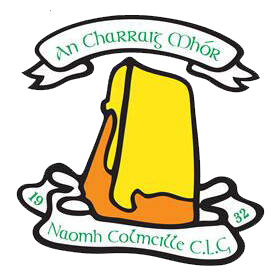 An Charraig Mhor Naomh Colmcille is based in mid Tyrone in the Parish of Termonmaguirc. The club draws its support from the town of Carrickmore and the surrounding townlands. The town, and particularly the club, is referred to colloquially, and affectionately, as 'Carmen' , a name derived from the Irish 'An Tearman' meaning a haven or a sanctuary, and refers to the sixth century Columban monastic settlement that was located in the vicinity of the present parish church.
Old maps of the district show the town's name as 'Termon' or 'Termon Rock'; in the 19th century the name Carrickmore, from the Irish 'An Charraig Mhor' which means The Big Rock, came into common usage. on the approach to Carrickmore it is easy to see how the name was a derived; the town was built on top of a large rocky outcrop and enjoys a vantage point over the Camowen valley, from the Sperrins to Fermanagh.
Carrickmore lies 11 miles from Omagh, 16 miles from Dungannon and 17 miles from Cookstown. We are bordered by the clubs of Greencastle, Kildress, Pomeroy, Galbally, Errigal Ciaran, Beragh, Killyclogher and nearest neighbours Loughmacrory, with whom we share the Parish of Termonmaguirc.
Carrickmore is an area rich in Irish culture, tradition and sport and has a proud record of producing some of the finest sportsmen and women, scholars, poets, singers and dancers in the county. Our football and handball teams of all ages have always brought honour and glory to our parish, displaying the determination, dedication and skill, which have made the name of An Charraig Mhór C.L.G. synonymous with success.
In our tightly knit community Gaelic games are like a religion and each generation has grown up inspired by their predecessors who have lined out for club. It is the ambition of every youngster to one day pull on the famous green, white and gold of An Charraig Mhor Naomh Colmcille.
The Spirit of Carmen has flourished here for almost 90 years.