Nótaí an Chlub 25ú lúil 2022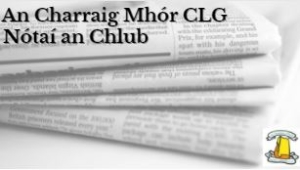 Our Senior men earned an important win away at Loch Mhic Ruairí on Friday night on a 0-11 to 1-10 scoreline. The Reserves drew 2-9 to 2-9. Dún Geannain visit Páirc Colmcille for Round 10 of the league this Wednesday. Senior and Reserve throw-ins are at 6:45pm & 8:00pm. Sunday see's our senior & reserve teams travel to Doire Locháin for throw-ins at 2:15 pm & 3:45 pm. 
Our U15 Grade 1 boys team beat Cappagh in round 1 of the league on Monday evening. This Saturday, the 30th, there are two more league matches for this age group. The Grade 1 boys' team are away against An Eaglais at 2 pm. At the same time, the Grade 3B team meet Urnaí.
Our minor ladies face An Ómaigh in the Tyrone Grade 1 championship final at 7 pm on Tuesday 26th at Greencastle Ádh mór to the minor girls and management. 
This Wednesday, our U17 boys travel to An Droim Mór for Round 7 of their league. Please reference social media for confirmation of throw-in time. On the same day, at 7 pm, our U14 ladies meet Cill Dreasa at Páirc an Locha in the Grade 1 league final. Ádh mór to the U14 girls and management.
The Youth Presentation has been postponed until later in the summertime.
There were ten entries with three correct numbers. Comhghairdeas to Muirgann McKeon, Niall McGarvey, Cadhla McAleer, Darragh Gallagher, Dominic McCullogh, Ryan McFarlane, Damian Kelly, Pat Fox, Cathal Gormley & John Martin. Each collects £10. 
 You can enter the lotto online at: https://www.klubfunder.com/Clubs/An%20Charraig%20Mhor%20GAA/lotto.
By procarrickmorestcolmcilles
Mon 25th Jul