An Charraig Mhór GFC honoured its 23rd President on Friday 21st April when Lawrence Kelly was made Club President for 2023. He has followed in the footsteps of his uncle Harry Kelly our first President in 2000.
A large crowd was in attendance in the Patrician Hall to pay tribute to a man who given his life thus far to the club. Opening proceedings Club Chairman Padraig Mc Callan welcome the friends and family of Lawrence to this very special occasion. He commended Lawrence on a lifetime of dedication to An Charraig Mhór telling all in attendance that he really has done it all for the club now that he has been made Club President. The Chairman's rundown of Lawrences various roles and responsibilities within the club gave visitors insight into why Lawrence was such a popular choice for this years' President.
Following the meal served by the Old Charm Inn a video presentation was shown detailing Lawrence's life from his childhood in Inishatieve through his playing career and into his chapter as Club Officer and volunteer. A youthful player on the 1969 Senior Championship winning team he kept the faith and despite losing two senior finals in 1971 and 1974 went on to become part of the historic 'three-in-a-row' Senior Championship winning team of 1977-1979. He served as Club Treasurer during part of this championship run and has been a constant on the club committee since the beginning of the 70's. He is the long serving Cultural Officer in the club at present and of course now Club President. However, Lawrences official roles only tell us part of the story of his deep love of the club. He is probably best known for his role as a volunteer at Pairc Colmcille where he devotes his time unselfishly as carparking steward and in general maintenance. His work is also part of the very fibre of Pairc Colmcille with many examples of his woodworking skills within the building in the form of display cabinets, the Club Officers board and the club jersey display to name but a few. His devotion to the promotion of Irish culture is lived out not only in the way he coordinates Scór within the club but also in his organisation of and attendance at the Ceili Dancing and Irish language classes.
The video presentation encompassed two very special video messages from Lawrence's uncle Harry Kelly and mother Kitty Kelly who concluded an emotional tribute. This added to the earlier written message from his brother Francis in San Francisco.
Following on, MC, Gavan Mc Elroy paid tribute to not only Lawrence but to his wife, Sue, for her role in allowing him the time and space to dedicate himself to the club whilst she had to commit equally as heavily at home in the day-to-day challenges of family life. Gavan added that it was great to have this opportunity to thank Sue and their children Sinéad, Orla, Paul and Annette for their respective roles in what is always very much a family commitment.
Lawrence was then presented with his Presidential Medal by Club Chairman Padraig Mc Callan and outgoing President Christina Mc Elduff. Linda Daly was on hand to present the Frank Donnelly Cup to the new President. Gifts of flowers were presented to Sue, Linda and Christina and Lawrence's sister Eileen Colton received flowers on behalf of their mother Kitty Kelly.
Proceeding were drawn to a close by Lawrence himself in an emotional and humorous speech where he thanked his brothers and sisters, wife and family for all the help they have given him. He also made special mention of those whose example he followed namely Frank Donnelly, Oliver Kerr, Harry Kelly, Jimmy Mc Elhatton and Peter Doherty. He concluded by thanking the club for making him club President.
Lawrence was soon called into action to perform his first role as new President when he made a special presentation of a framed, signed Senior Ladies jersey to Aoife Kerr. This was commissioned by Club Treasurer Maurice Mc Philips and was the Senior Championship winning jersey of 2021. Aoife of course is the sister of Jarlath Kerr after whom the Senior Ladies Championship Cup is named.
So concluded another successful Presidents night for the Carrickmore club and after formal proceedings ended clubman Conan mc Aleer was as always on duty to record the event with many memorable pictures most notable of which were those with Lawrences family and his past playing colleagues.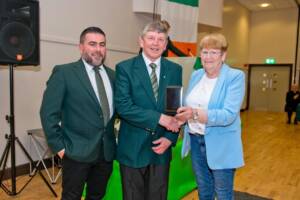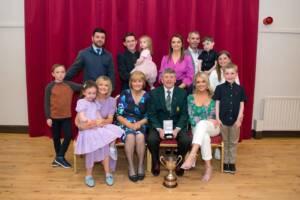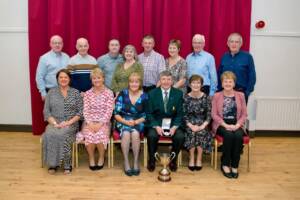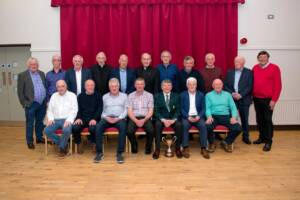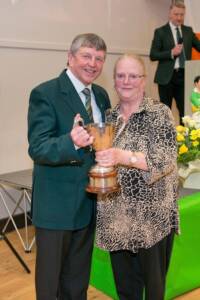 By procarrickmorestcolmcilles
Thu 11th May