📌Peggy Kerr (RIP)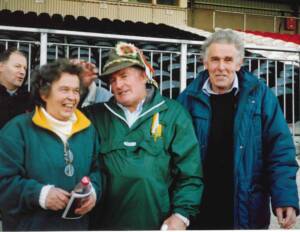 The club would like to extend our deepest sympathy to the family of Peggy Kerr (née Hughes) who passed away yesterday, Thursday November 3rd.
Our thoughts are with her daughters Cliodhna and Aoife, sons Seamus, Michael, Sean, Danny, the late Jarlath and the large extended families of the Kerr and Hughes clans.
The Kerr family name has been closely associated with An Charraig Mhór club with a large representation both at committee level and on the field of play since the early years of the club.
Peggy was a dedicated supporter of the club and attended all games religiously until poor health impacted on her ability to do so. Her contribution to the 'Carrickmore Tradition' Vol. 1 has been well documented within the pages of that landmark publication.
She tended to the flower beds around the An Fear Gael monument for many years no doubt inspired by the fact that her son Jarlath's name was inscribed there but also because of the empathy she felt for the other families robbed of their loved ones as such young ages. The death of Jarlath in 1998 was a deep blow to her but she met it with great faith and resolve. His loss was turned into something positive by the family with the naming of the Tyrone Senior Ladies Championship cup in his honour. The pursuit of it each year creates a great sense of pride both within the Kerr family and the entire community.
Peggy was predeceased by her beloved husband James, who served as Club Chairman (1952-1953) and was a Trustee of our club grounds.
Her family home at Bru Na Bri was a hub for footballing conversation before and after games and she welcomed all comers who would participate in the cut and thrust of the debate whilst treated to her generous hospitality. Underlying it all was her deep sense of fun and sense of humour. Many will recall the banners she designed in the 90's that were hung across the road entering the town in the run up to the various County Finals of that era.
Brought up in a house where football was high on the agenda her own children would go on to be engrained in club activity. Seamus was an underage player. Michael is a past player, past club officer and current Tyrone County Board Chairman. Sean is a past player and past club officer. Daughter Cliodhna is a past club officer and Tyrone County Board Cultural Officer. Danny served the club as a player, committee member, and Club Officer. Jarlath (RIP), was a past player, past senior ladies manager and past committee member. Aoife of course is our dedicated, number one supporter and can be seen regularly at Quinn's Corner when we return following wins at all levels.
Peggy's love of the club has been handed on to the next generation with her grandchildren representing the club at various levels.
Her loss will be most deeply felt by her immediate family who can take comfort from the fact that her contribution to the club will live long in the memory of all who knew her.
Peggy is pictured here in happier times following the 2004 Championship win with Mickey Mc Callan(centre) and her brother Patsy Hughes (right), Peter Quinlivan in background.
Ar dheis Dé go raibh a hanam.
May her soul rest in peace.
Gavan Mc Elroy on behalf of An Charraig Mhór GFC